5 of our favourite feature trees for Brisbane gardens
Looking for a tree to feature in your garden? Fear not, we've selected 5 of our favourite trees which make perfect feature specimens in any garden. Whether your after a tree for your tropical, native or formal garden we've got you covered.

1. OLIVE TREE
The Olive tree, or Olea europaea, is a beautiful evergreen tree with silvery grey/green foliage. Perfect for in the garden or in a pot, they usually grow to 4-8m in height. Ideally suited to a Mediterranean climate, the Olive tree is versatile and can grow in parts of the subtropics and cooler climates. Requiring well drained soil, the Olive performs best in full sun and once established can tolerate drought.

2. TROPICAL BIRCH
Betula nigra, commonly know as Tropical Birch is one of the few cold climate trees that grow in South East Queensland. They can grow up to 15m in height with a 6m wide canopy and are suitable to grow in full sun, part shade to full shade. One of it's prominent features is the cinnamon coloured bark which peels to reveal a white trunk once mature.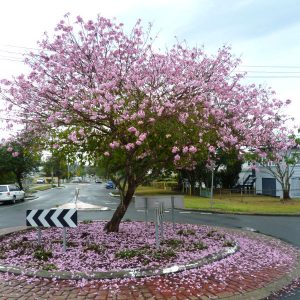 3. TABEBUIA
With it's stunning pink trumpet shaped flowers, Tabebuia palmeri is a deciduous medium sized tree that flowers in later Winter and Spring. Growing 7-10m in height and a spread of 6m, the Tabebuia is a great summer shade tree. It is drought tolerant once established, and will tolerate most soil types but prefers fertile well drained soil.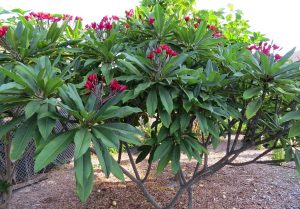 4. FRANGIPANI
Plumeria rubra or Frangipanis are an iconic tree in gardens across South East Queensland. Thriving in sandy, free draining soil they can grow up to 5m in height and 5m wide. They are available in multiple colours such as white, pink, orange, multicolour, and red. They like to grow in full sun and flower throughout the Summer and into Autumn.

5. NATIVE GARDENIA
Native Gardenia, also know as Randia fizalanii is a lush evergreen tree growing up to 6m in height and 2-4m wide. This subtropical native tree has scented starry white flowers with a gardenia fragrance which flower in Spring. Suited for part shade to a full sun, the native gardenia is a perfect shade tree for the garden.